updated May 12 th. , 2014
Spring has finially arrived ... Kayaks and canoe free to use on premises.
Outside fire place ,free firewood.
( A 4 SEASONS RETREAT )
Welcome to central Maine. / with special off season rates as low as $300 per week from December to about May 11 th. each year.
ACCEPTING RESERVATIONS FOR 2014
This is a single cabin on a wide stream, sitting on a peninsula with great views up and down the river. It has about 2000 feet of water frontage with a 1/2 mile private entrance. ( Kayak useage included.) The peace and quiet in a beautiful river valley, at an outstanding value, is what makes this location stand out.
It's almost June 2014 now and I still have some prime spots for this year. - see my
Availibilty Calendar
<<or ( opens in a new tab ) if this link dont direct you to my calendar , contact me
Email me contact (preferred)
DallasCabin@gmail.com
FYI -- Most of my bookings happen in Feb and March ( related to early tax returns I think ) book early for preferred time periods in spring summer and fall requests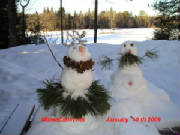 A pair of January Snowmen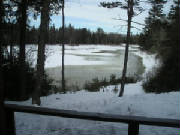 New Snow - December
Cabin location on Kingsbury Stream - Abbot, Maine
March 2011, taken as a panorama by Carlo, a guest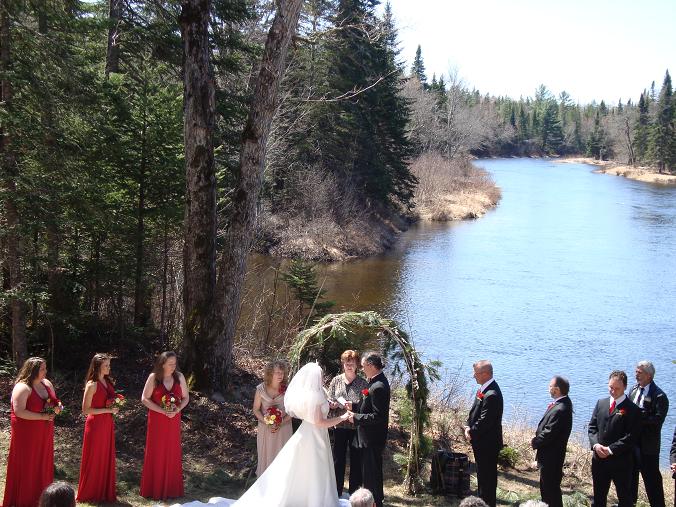 Cabin Wedding May 1 2011
In this photo the water shown is just a bit higher than normal , The waters edge is about 100 feet from the cabin. From my house, I can hear this whitewater and its over a half mile away ! You wont need one of those cassette tapes of nature sounds to put you asleep nights.
The Cabin is accessable by car , ATV and snowmobile and is within a half hour drive of the following towns.
Abbot, Guilford, Sangerville, Monson, Shirley, Blanchard, Dexter, Ripley, Mayfield, Dover Foxcroft, Cambridge, Parkman, Kingsbury, Willimatic, Piper Pond, Whetstone Pond, Sebec Lake, Bennet Pond, Davis Pond, Early Landing, Milo, Charleston, Atkinson, Greenville and Greenville Junction I accept short term reservations if the cabin is available. just look at my online calendar and email or call to confirm. I only need a 2 - 4 hour notice to have it ready for you.
Recreational opportunities are abundant in this area with its lakes and ponds , streams and forests, whether you're hiking ,white water rafting, mountain climbing, This area of Maine is generally within an hours drive of countless hours of activities , our coast and lighthouses are a bit further. A guide book is furnished ( Delorme's) with an endless list of places and things to do, such as Unique natural areas, Scenic waterfalls, Beaches, National and State Parks, Recreation areas, Lighthouses, Hiking trails, Places of interest and much more. Other options are those morning walks in a very safe neighborhood, canoeing and kayaking, or evenings building a fire outside in the fireplace , (free wood) and cooking popcorn over an open fire with a real popcorn cooker - you add the kernals, slab of butter and gentlely shake above the flame. Winter activities may involve snowshoeing (2 pr. provided) ice fishing nearby ponds and lakes, cross country skiing, or even renting snow sleds , a day or partial day, from nearby Greenville area.

The "camp" is 6 tenths of a mile down behind my house with a private access ( no other people, vehicles ) There is a residence on the other side of the stream and the visibility of their home is blocked by trees and foilage. Their access is not thought the cabin access . While your here you will realize that you have about 2000 feet of water frontage to yourself and that this stream is about 200 feet wide in many places.
Ok, heres the brief on this place.

Cabin in Central Maine: 1 1/2 story camp on beautiful Kingsbury Stream in Abbot Village. (A four season retreat at a low price ) Peace and quiet is yours in this single furnished cabin , located in a senic valley surrounding. It may be considered a camp , cottage or cabin, but its not a condo, timeshare or lodge, thereefore we can offer low rates .Weekly Rates start at 300. to 550 / week, depending on the season. Sleeps 2-5 persons. (My lowest rates are in the snowmobile and spring seasons. ) There are 2 bedrooms - 4 beds, outside ground deck, & upstairs bedroom balcony (outside ) , drilled well , hot water, shower, oil furnace as well as an outside fireplace and gas grill.

1/2 mile private drive, 2000 feet of water frtontage, no through traffic

!

Great base to enjoy the beauty and tranquility of the area by the outside fireplace evenings or from the deck, just outside the sliding glass door. or have your morning coffee from the upstairs balcony ., Of course other options are relaxing beside the water , exploring local waterfalls , hiking , reading a book or hunting and fishing. ( see my THINGS TO DO page)..Come live 75 feet from the gentle roar of the white water and scenic waterway. You may see deer crossing the 200 ft wide stream from the deck or large window looking up stream. Local wildlife include deer ,turkeys, beaver, bunnies, bald eagles, squirrels and an occasional moose.

Furnished, (includes bedding, towels) oil heat, electricity, full kitchen, hot water, shower, gas cook stove, TV, satilite connection , DVD, VCR . Relax, enjoy the scenery, or swim at the rivers edge just down below the white water.( about 75 feet from the deck )
Fall foilage - Summer kayaking upstream

May 2006 - Sept 2008 Downstream
I'm a single camp owner who will go out of my way to provide you with the extra information based on your families interests and abilities to make your stay a great one. Things like local scenic info, good places to fish, local waterfalls, recommended hiking trails, white water rafting, etc..However A guide book is furnished ( Delorme's) with an endless list of places and things to do within it , such as Unique natural areas, Scenic waterfalls, Beaches, Parks ,Recreation areas, Lighthouses, Hiking trails, and much more. This is a great area all 4 seasons, rather your day hiking , summer vacationing, here for the worlds best fall foilage, or just need a scenic relaxed atmosphere to read a book. Fall big game hunting or snowmobiling are other options ( There is a connecting snowmobile link from the cabin to the I.T.S. trails and ATV trails but because its private property and not part of the trail system , you wont see any other recreational vechicles near the cabin.)
This region of Maine ( Abbot Village ) is away from the hustle and bustle and commercialism of other parts of the State. This is truly ' LIFE AS IT OUGHT TO BE ". Abbot Village is a small friendly town ( with one convenience store and one bakery, 2 crafts shops and ice cream place) that sits near the exact center of Maine at the junction of 2 rivers that drain from the surrounding lakes, ponds, hills and mountains. It is between Bingham , Greenville and Bangor, we are on the southern edge of the Great Northwoods, It is a diverse area with some unique geological features to include Slate quarries, several small waterfalls, and hundreds to thousands of miles lumbering, ATV and Snowmobiling trails . miles of working forest roads Just a few hundred feet from our roads, you will see some very scenic areas.

I own about 100 acres here and this cabin is on the backside of my property My camp is complete with all except washer and dryer. . . Many photos, full description,, things to do page, and availability calendar on this web site, average email response time 1 - 3 hours, often minutes.
AND YES ladies the cabin does have inside plumbing !

......Please notice that there is more than one page here , use the index ( top right )

!
Before we get very far,
Let's talk price right here on the front page! (you dont need to search or email for prices )
We are proud of our rates, I believe they are among the lowest in the State of Maine.
2014
DEC 8, 2013- May 10th 2014 $ 300 wk./60 day
May 11, 2014 - June 14 $ 350 wk./70 day
June 15, 2014 - Aug 9 th $ 550 wk./ 100 day
Aug 10, 2014 - Sept 20 $ 450 wk./ 90 day
Sept 21, 2014 to Nov 01 $300/wk./60
Nov 2, 2014 - Dec 06 th $ 400 wk./ full weeks only
Dec 7, 2014 - May 10 2015 $ 300 wk./60 day
Does not include 8 % lodging Tax for STATE of MAINE
PLEASE dont add half of this tax ( or any part of it ) in your 50 % deposit .
it will be added on the amout due on your arrivial .

Welcome to my personal web site! There are 10 pages here, WHITE LINKS ( index ) ABOVE AND TO YOUR RIGHT.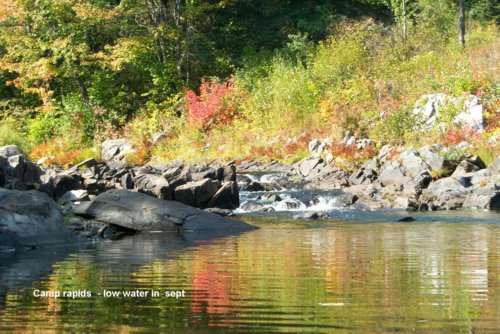 A FEW FEET FROM THE FIREPLACE OVERLOOKING THE RIVER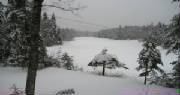 MAINE'S WINTER WONDERLAND - UPSTREAM