EARLY WINTER VIEW FROM THE CABIN
It's (almost ) Snowmobile and winter activity time, ( snowmobiling, skiing, ice fishing, snowshoeing or just solitude at the cabin )
updated May 12 , 2014

Our 2013 season was great ,with the early snow and late spring, a lady that rents from me still got in about 3200 miles this year Our "riding season" usually starts about the first week in January

Welcome to Maine's Winterwonderland. / with off season rates as low as $300 week

It may be time to reserve your lodging for this season or even a week during the summer.

Snowmobiling in this area is generally fantastic, from here there is about a mile of local trail to get to the connecting links of the ITS .
... its Been a great winter the last few years with the early snows . Each year , usually I have vacancies at the cabin and mobile home, I offer special rates for people that are interested in booking a couple months in a row if available , - ask. For those that reserve multi weeks or weekends , I offer free sled storeage here ( so you dont need to trailor your sleds back and forth ) see link below to my calendar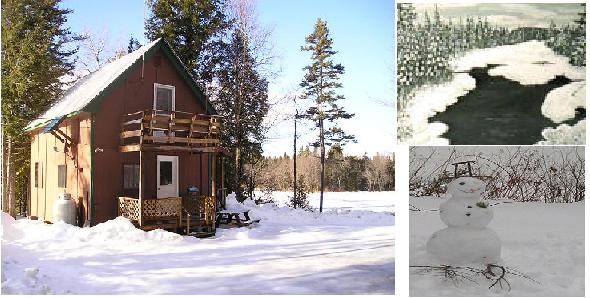 SNOWMOBILE , Snowshoe Relax Winter scene
Snowmobile access to the main trails is by a connecting link , pretty much only used by my guests. its about 23 miles to Greenville by sled and 15 to Dover Foxcroft on some real good grooomed trails . ( Interstate Trail System 87 )
Look at my Availibilitry Calendar for the Cabin here >
CABIN
the cabin are with in 1 1/2 miles by trail to a place to eat . The closest places to eat are 1 1/2 miles, 4 miles , 9 miles for the three closest . Closest gas places are 4 mies and 9 miles.
Weather you are just running short trips or a day trip you will find that Moosehead Lake , Greenville, Rockwood, Pittston Farm , Rockwood, Moscow, The Forks, Bingham, Moxie falls, Lake Hebron , Monson, Kingsbury, Chamberlain or Chesuncook areas are with in riding range of either my cabin or the moble home. Other surrounding areas are Abbot, Guilford, Sangerville, Monson, Shirley, Blanchard, Dexter, Ripley, Mayfield, Dover Foxcroft, Cambridge, Parkman, Kingsbury, Willimatic, Piper Pond. Whetstone Pond, Sebec Lake, Bennet Pond, Davis Pond, Early's Landing, Milo, Charleston, Atkinson, Greenville and Greenville Junction, Bear's Den, Covered bridge Motel
HUNTING ,FISHING or SNOWMOBILING in Maine ? Low rates at either location and free temperory storage for snowsled , ATV or boat storage for guests that have multi-weeks or weekends reserved.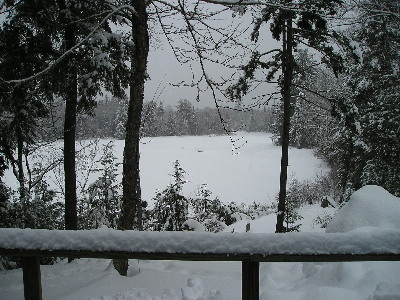 Moonlit nightscene .... looking downstream
from the sliding glass door on the outside
deck during a snowstorm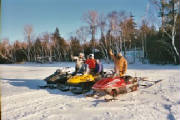 3 local members of the
BIG PINE Snowmobile Club in Abbot Maine
Thats our local club , click on the photo to get to their web site and trail report .
Do keep in mind trail locations may vary slightly from year to year .
Why not rent your own place rather than booking a motel with many restrictive rules .. just hop on your sled 24 / 7 , drive right out of the yard. with a connecting link it's just over a mile to the States ITS system (Interstate Trail System) from either the camp or mobile home The road to the cabin is privately plowed for car / pick up access all winter
I also offer free storage for guests that have multi weeks or weekends for Snowsleds, Atv's or even boats and ample room for those trailors weather you choose the Cabin or Mobile home for your lodging needs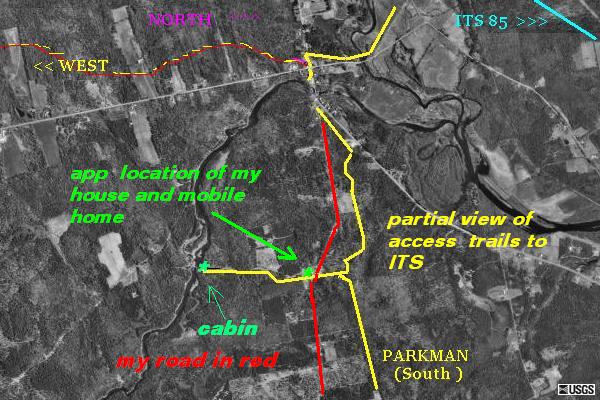 LOCAL TRAIL TO the ITS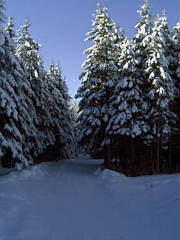 This is part of the access road down to the cabin / camp
SNOWMOBILING in MAINE
I'm looking for some snowmobile people for this coming winter , LOW monthly rates and sled storage during the week for my guests that have multi -weeks or months.
I do have a two night minimun for weekenders of the daily rate listed on my home page .
My cabin is about a mile from one of the States well maintained trails, with the cooperation of my neighbors,we have a connecting link to that trail , you wont be buzzed by other sleds in the cabin area or the mobile home area! if you in the area this summer stop in , check it out !!
STATEWIDE ITS
CLICK ON THIS MAP PHOTO (to the right )
It is a outside link to Maine Snowmobile Maps
It will open a new window ,it should take you to a web page
with the overall State ITS map ........ This area is
CENTRAL MAINE with Abbot (this area) showing in the
top center of "that" map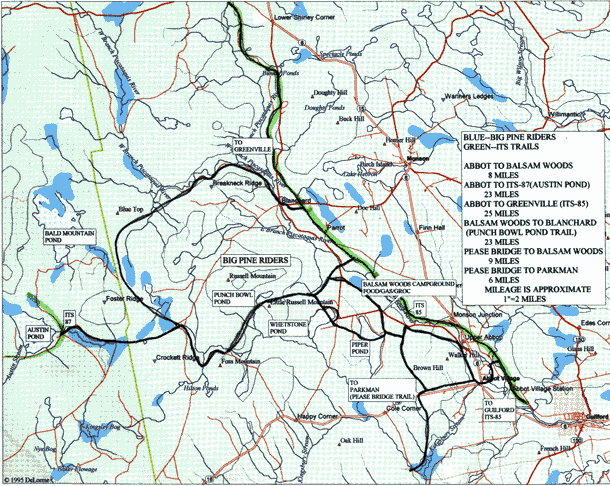 LOCAL MAP
Click on this picture to take you to a
web page with a local trail map
First winter storm ( not much but it's white )
This cabin is 16 x 24 but is set up very well on the inside for maximin room .it is comfortable for 4 - 5 persons. (4 beds ) . There is a full description on my CAMP DESCRIPTION page . The out side photo shows a upstairs balcony out of one of the bedrooms , a fireplace (wood furnished ) , a side deck , gas grill and table . .. There is now a roof over the outside deck (new photo coming this winter)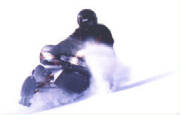 Snowmobiling; this is one of my favorite buisnessess in Greenville click on the picture SNOWMOBILE Rentals and clothing , (guided or not) or
Snowshoeing; X/C skiing; Guided Ice fishing; Guided winter camping;
Backcountry Snowshoe . THIS BUISNESS has experienced Registered Maine Guides to assist you or lead you through a day or more of time well spent in Maine's Winter Wonderland. (Mark Patterson is the guide I recommend - signed his father )
Maine has over 290 MSA clubs here are the Regional Snowmobile Clubs
alot of local snowmobile maps can be found through http://www.sledmaine.com/maps/map.html
Abbot: Big Pine SC PO Box 13 Abbott Me 04406
Atkinson: Cold Smoke Riders 101 Stagecoach Road Atkinson Me 04426
Brownville: Brownville SC PO Box 296 Brownville Me 04414
Brownville: Ebeeme SC L. Fair RR 1 Box 690 Brownville 04414
Charleston: Stump Jumpers SC 9 Dover Road Charleston me 04422
Dover-Foxcroft: Piscataquis Valley SC PO Box 52 Dover-Foxcroft Me 04426
Dexter: Wassookeag Snowmobile Club PO Box121 Dexter Me 04930
Garland Frosty Valley Snow Sledders PO Box 99 Garland Me 04930
Guilford: Four winds SC PO Box 543 Guilford Me 04443
Milo: Devil Sledders INC: Route 2 Box130C Milo Me 04463
Monson: Narrow Gauge Riders PO box 296 Monson 04464
Parkman: TrailBlazers SC 15 Libby Lane Parkman 04443
Sebec: Big Bear SC PO Box 21 Sebec Me 04481
Sebec: SC @ Sebec Fire Dept on the North Road