update October 1, 2012
Rather than change this whole page, the mobile home has already been reserved for the forseeable future.- . DEER HUNTERS - I do not have vacancies for the 2012 seasons at either locations. One of the two weeks of black powder ( Musket loader ) of the BIG game season in December WMZ - 17 is available at the cabin . The cabin and mobile home are 1/2 mile apart. Both sleeps 4 -5
Deer , bear , moose , Rabbit hunting in Maine by firearms, Archery (bow or crossbow) or muzzleloader, I have 2 locations for lodgeing, both in Central Maine at seperate locations on this 100 acre lot. Both are in ( Wildlife Management District ) WMD 17, a one minute drive to WMD #14 . One a Cabin ( camp) on Kingsbury Stream and the other a mobile home on the front side of my land with no waterfront. Rates are low in both locations / with the mobile home being the lowest , up to 45 % less than the cabin at certain times. Both units fully furnished , however only the mobile home has a washer & dryer. If this will meet your needs and dont require a guide see the above index links ( ADDITIONAL Rental Property or my HOME PAGE)
The rest of this page is for my friend Dave who can provide the GUIDES Extra touch ! The rest of this page is not affiliated with my cabin or mobile home or their availibility calendars.
Dave has built his own place - lodge out in Kingsbury , photos below


we are in the process of building Dave his own WWW web page .. please click on this logo photo of HARRY'S BIG GAME LODGE ( just above ) to go to his new page. it is updated with a lot of infomation
DEER BEAR MOOSE hunting at it's best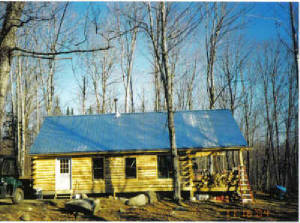 During the first 2 weeks of the 2008 bear season , 6 guests got 4 bear !!

Bear Fishing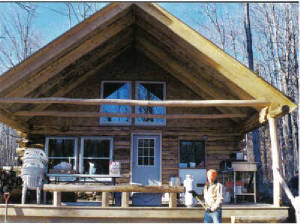 REGISTERED MAINE GUIDE
David Harris
P.O. Box 152
Abbot , Maine 04406
207 343 0391
Maine is about 320 miles long and 210 miles wide, with a land area of over 33,000 square miles - roughly the land area of all the other five New England states combined. Our nearly 17 million acres of forestland is dotted by more than 6,000 lakes and ponds and 32,000 miles of rivers and streams, and has nearly 3,500 miles of coastline, and over 2,000 islands.

While most land in Maine is privately owned, the state has more than 10 million acres of unposted land and nearly 100,000 acres of wildlife management areas. Visiting hunters and anglers are provided with more than half a million acres of State and National Park land, and over a million acres in the 54 designated properties that comprise the "Public Reserved Land" program.

Each November, Maine hunters tag more than 600 whitetail bucks that tip the scales above the trophy 200-pound mark. Bear hunting in Maine is the best in the East. The state offers a fall moose hunting season unmatched in hunter success anywhere in the nation, as well as world-class hunting for wild turkey, ruffed grouse, pheasant, upland game and waterfowl.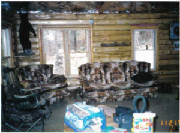 WE offer hunts for bow ,rifle and black powder. All Hunts are 6 day hunts which include lodging and home cooked meals. Full bathroom facilities are available.. All you need to bring is your rifle , sleeping bag and clothes. Your guide is with you 24 hours a day.
We have the leased rights to thousands of acres for hunting and bear baiting, without competition from other hunters.
Some of our bait sites (bear ) have been established for years, new ones added yearly. Our average stand heigth is 15 -20 feet.
Each Client has his own active site - your guide will take you to and from your site.
(Here is the secert to getting a bear , a GOOD GUIDE that cares, a good active site, sit still ,and dont pee anywhere near your site ... Dallas )
Increase your chances of a trophy buck or bear, use a PROFESSIONAL. Maine Registered Guide ( 207 343-0391 )

Maine is home to one of the largest of the 30 recognized subspecies of white-tailed deer. After attaining maturity at age five, our bucks can reach record live weights of nearly 400 lbs. Most adult bucks, however will normally range from 200 to 300 lbs live weight, and will stand 36 to 40" at the shoulder. Does are considerably smaller; they normally weigh 120 to 175 lbs live weight. Newborn fawns begin life at 4 to 10 lbs, but grow to approximately 85 lbs live weight in their first 6 months of life. Deer have long graceful legs, enabling them to cover ground up to 40 mph. White-tailed deer can live to 18 years, but few deer in the wild live that long.