PRINTABLE BUISNESS CARD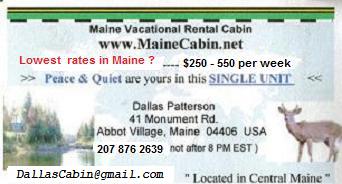 SAVE THIS CARD FOR ANOTHER TIME
Would you like to be able to find this site again ? Why not just print out a buisness card ?... RIGHT CLICK the card on the left of this text, and select Print Picture or Select E-mail picture and mail to to your own address (in case your at work now !) when you do print it it should print as regular buisness card size

If you came to my site looking for lodgeing for the Deer Season or Moose Season , this is it . The lowest rates in the State . I'm not a guide , but I am familular with this area, I think I can help you . If my cabin is already booked consider the mobile home ( you dont need the waterfront)
I personally know 2 damm good REGISTERED MAINE GUIDES , that specialize in hunting, the other in recreational activities (moose tours, fishing, sightseeing, river trips ). A guide is not required in Maine.
THANK YOU FOR VISITING MY PAGE,
I hope you found this site easy to use,with the pop up windows leaving the main page as it was. This is my first web page, most of it done in two days . But everything can use new ideas . please tell me what you are thinking, Use my email, I welcome your suggestions and comments and questions !
Maine Vacation Rental Cabin - Camp
Two moose in my back yard