==============================
UPDATE on the paragraph below - This has been converted to a residential rental now - the existing commericial plumbing is still in place , just capped off for residential use.
Opportunity knocks!!! Soft serve ice cream and food takeout business, includes newer building (built in 1999 ) and remaining equipment. This business is ready to go! It even has a drive thru pick-up window for phone orders. Plenty of parking. Located across from an active recreational field and public beach on a busy highway. About half the business location was set up as a craft outlet, as a lease. Great chance to add canoe ,kayak rentals for the Public beach and boat launch just over 400 feet away .
Live next door in a pleasant country four bedroom home.
Customer base is building the first three seasons in operation , You got to wondering why am I selling it ? Well , my long range plan was to build this place run it for two years , get out any bugs ,then sell it , It is a good plan !
My sign out front reads "REASON for selling , been there, done that , gone fishing " (This year I'm Alaska bound !)
House adjacent to the Dairy Plaza
This house is currently a rental producing $400.00 per month
House for sale in Maine
This house , building date unknown 1860-1910 is a comfortable residence. It currently is used as a rental , most tenants stay about 3 years. It has a small cellar with, electric water heater, waterpump and forced hot air oil furnace in it. The first floor has an outside porch and 4 rooms downstairs besides the kitchen pantry and full bath. Also from the front porch entry, there is a small hall and coat rack. Upstairs there are 2 -3 rooms, the third being a wide hallway large enough for a twin bed . There is also a large stone & brick fireplace that has been closed off by paneling, my estimate is that $1000 would restore this to a nice working fireplace.
There is a nice spacious private back yard with room for a garden, a nice apple tree and a majestic cedar. and room for a garden !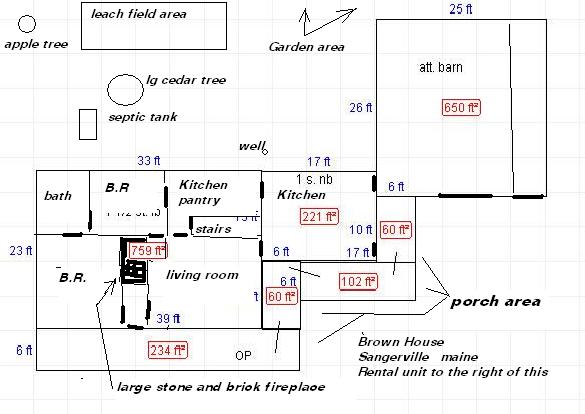 BROWN HOUSE 3 to 5 bedroom
Both buildings have their own independent well and new septic systems.
There is adequate storage for two vehicles in the barn as well as much more.
There is nearly equal storage on the second floor of the barn . I used one part for my wife,s vechicle and the other (larger) for my work shop, saws, drills, planers and misc stuff. Did you notice the sign on the barn roof ? In Maine under the "billboard law " it is legal to have an "on premises billboard " Mine read ICE CREAM , FOOD , - VISA / MASTERCHARGE