On this page, you will see pictures around the camp as well as a picture of two little fawns taken on my back yard ,a half mile away . Did you know that the best fall foilage in the world happens right here in Maine in the last week of September to the first week in October. Why not relax in a country setting while enjoying the area at low rates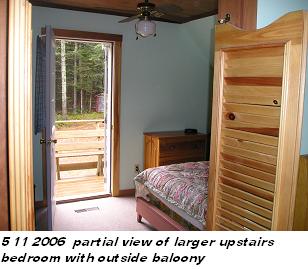 This is a picture of one of the two bedrooms upstairs in the camp , there is a door leading out to the upstairs balcony , with a nice view of the river. This room has a full size bed as well as a twin bed. Both rooms have bar-room style doors ... Below is the scenic view upstream from the dining area.

This is a picture tahen in September This time of year the water flow usually is low. At times through out the year I can hear this whitewater from my house a half mile away .

camp upstairs balcony 75 feert from water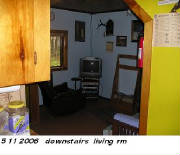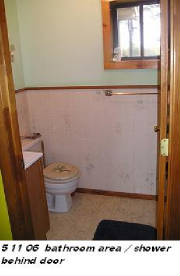 Contains the essentials plus shower stall
This picture (below) was taken streamside , looking down the stream, from in front of the camp. From this location there is 3/4 mile canoeable water down to the edge of Abbot Village . There is a canoe and 2 kayaks availabe, free to use on premises ( as rentals if you take them elsewhere).
In the photo above, here I am with my smaller woods equipment ,and as I mentioned on my home page , we still burn wood. Below is a winter photo of our back yard , apple trees and a pine tree plantation in the background . This is your gateway to the camp.

Below, are two little fawns out on my back lawn. We watched then grow from the time they had spots. We often had to walk around them, they got so they felt very safe around our house . They survived during hunting season and into mid January at the time this picture was posted.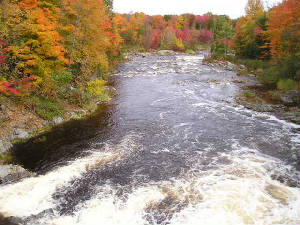 This photo is from the bridge in downtown Abbot .. you may see it on a postcard from this area. Come see our area of New England in the peak of fall foilage in late September , early October , best in the world !