PLEASE NOTE THAT SOME OF THESE PICTURES and underlined sentences ARE ACTIVE LINKS TO THAT PARTICULAR FEILD OF INTERESTS just move your mouse over them to see.
OUTDOORS STUFF _ hiking, rafting, hunting and fishing .
Cross country skiing can be done about anywhere in this area, there are many trails throughout the woods .If your looking for downhill skiing with a lift I recommend a place 25 miles north of here just outside Greenville, They do now have a web page , click on the picture for info. ( Big Squaw Mountain Resort ) oh ! The state has renamed this mountain to Moose Mountain but the owners have retained their resort name .
THERE IS A SPECIAL PAGE FOR THE SNOWMOBILE PEOPLE Click on this photo to go to that page Please
Four Wheeling , 4 wheeling or ATV riding... it dont matter how you say it , its great entertainment. Although Maine is noted for many outdoor recreational activities, among the most popular are boating, snowmobiling and riding of ATVs. With 2,500 lakes and ponds, and thousands of miles of maintained snowmobile and ATV trails, it's easy to see why these sports have become so popular!
I live on a farm in central Maine (100 acres) , my camp renters are welcome to ride on my land , field and woods trails . Starting as close as 3/4 mile away there are hundreds and hundreds of miles of woods roads to roam. Check out my location on the "Maps and Directions page"
At certain times during the year, parts of it may be closed to 4 wheelers due to the logging industry ( it's their roads) and a concern for your safety but there is always a lot of room ! Our ATV industry depends on indivual land owners allowing riders and not doing property damage , in some places riding trails may be closed untill our mud season is over , (usually about May 15 th)
My own 4 wheeler, I keep a canoe rack right on it , and load my gear and canoe, drive it onto my pick-up and am off to some of our remote ponds for a day of wandering and fishing !
I do encourage responsable and safe riding practices. You can have a great time in this and surrounding areas with out getting hurt., just a short distance from here opens you up to hundreds and hundreds of miles of logging roads. Some of the local destinations from here are Abbot, Parkman , Guilford , DoverFoxcroft, Cambridge , Dexter, Newport, Greeville, Shirley, West Forks , Bingham,
For your convience here is a place you can rent a 4 wheeler, about 22 miles north of here ... Northwoods OutFitters 866- 223 -1380
... Greenville Maine

there is a second place in Kokadjo Maine , but through personal experience, I'll do nothing for them except turn around in their yard !( they are a onory bunch ! )
CLICK PHOTO FOR RENTAL LINK
4 Wheeling in central Maine
Make reservations for white water rafting , I recommend the
www.RiverDrivers.com
, most of the time during the week you can get next day reservations @ 1-866-748-7378 you will meet at a town called WEST FORKS (zip 04985 )about 24 miles north of Bingham at 9 AM , be bused to Harris Station (a dam ) and picked up in THE FORKS and bused back . Return about 4 pm , other trips available. Tell them Dallas sent you.
Horseback Riding - Riding Stables in this area
Northern Maine Riding Adventures, Dover-Foxcroft, Maine , (207) 564-3451

http://www.mainetrailrides.com/
and
Cedar Wind Stables ,
Route 15, Charleston
Call:
(207) 285-3472 and there is another just North of Monson , about 12 miles from here
10 miles north of Abbot ...Take a tour at a local Bison farm in Blanchard, there is a fee for tours , this is a working farm and tours do require time from the owners , but are well worth it ! there is a gift shop there also featuring maple syrup products as well as buffalo ( BISON ) and VENISON products / meats for sale . Call for a reservation and information ,CLICK ON THIS paragraph for a link and phone numbers .
Blacksmith Shop Museum in Dover-Foxcroft (Free tour) Click here for relevant informatiom or ph. 207-564-8618 ............... Many towns have local Historical buildings that serve as mini museums , all interesting, if you spot one check their OPEN hours and visit.
There are a couple places in Guilford and a larger place in Dover-Foxcroft to rent movies and games ( 4 and 12 miles away )
The lenth of the Appalachian in Maine is 281 Miles.
The northern terminus the trail is Mt. Katahdin, shown here, 5,267 ft. high. Its in Baxter State Park in central Maine. The Trail continues southwest to Monson (9 miles north of the cabin), eventually crossing the Kennebec River, at about the Maine halfway point. Many mountains later, and after passing through the famed Mahoosuc and Grafton notches, the Trail enters New Hampshire.
From Abbot Village, your snowmobiling trip starts right in the the middle. There is only 4 directions to start your day trip, North, East, South, and West. From my cabin there is a one mile connecting trail to ITS 85. CLICK on the snowmobile for TRAIL MAPS.
SO YOU WANT TO SEE A MOOSE ! You may see one crossing the river at the camp, but why wait for them let me show you where to go. Pack a lunch, do a day trip on some our the hundreds of miles of logging roads in the area. Its a fine time to bring along the camera for the secic areas you'll pass through.
OR
go First Class - for a guided canoe or vechicle trip - call
MARK PATTERSON
mark.patterson15@gmail.com
( << active link ) at
1-207-343-0486 and ask for Mark Patterson ( a experienced Registered Maine Guide - use professionals for quality ) he also does fishing ,camping , Photography & Allagash and St.John river trips.
His wife Ashley does tours and Dog Sled rides also.
This picture is a active link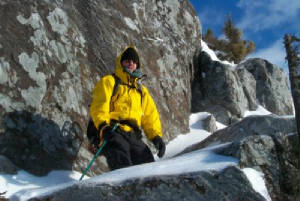 These two photos are my Brother-in law's (thanks Butch)
they are of "his mountain " Borestone Mt. in central Maine , Elliotsville TWP,about 18 miles from here.
It is an impressive mountain (El. 1100 ft) that rises abruptly beside Lake Onawa . The trail acends steadly to 3 ponds near the summit (Sunrise, Mid-day, Sunset Ponds) and then through the woods to bare ledges and a panoramic view. Hiking time is est. at 3 1/2 hours round trip. ( LINK ENCLOSED WITH IN THE PICTURE )
I thought I would throw in this photo .. Its an Alaskan KING SALMON This photo was taken near midnight their time. While I caught a 97 pound Halibut while there, this 47 pound King Salmon was the most impressive AND using a wheel barrow to lug it from the boat to the cabin next door.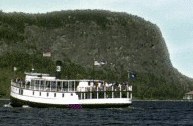 CLICK ON PHOTO FOR TOUR INFO.
Katahdin Cruises travel Moosehead Lake the largest lake in Maine
The "KATAHDIN", is one of the oldest steamships in America.
• Narration provided of points of interest
•Spacious Decks with ample indoor and outdoor
seating
•Beverages, sandwiches and snacks available from our working galley
•Handicap accessibility
Moosehead Marine Museum
12 Lily Bay Road Greenville, ME 04441
207-695-2716