Below you will find the calendar for the Cabin ... It is my preference to rent the Cabin on a Sunday to Sun. basis , if possible - but we do accommodate other requests.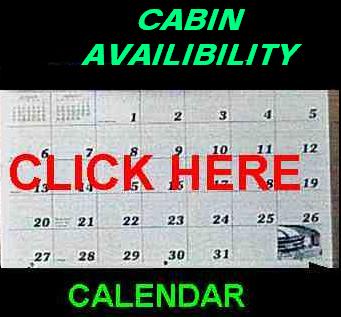 CLICK ON THE CALENDAR TO
SEE IF YOUR CHOICE OF DATES
ARE STILL OPEN ......Then please use EMAIL , I check my mail many times daily ( there are email links in a number of places but there is another on the "CONTACT ME " page )........... but read this first
THE PET QUESTION ????
1. No deer chasing dogs, cats can !
2. If your dog digs holes , I need a owner to fill them., cats holes ok !
3. Bring no fleas !!! ( I don't want dog fleas for my next guests)
4. If your dog sheds alot , make an attempt to clean up the hair.
5. Pets must bring a responsible owner with them.
6. Starting this year , I find that I must charge an additional $20 for dogs, pet hair from blankets reguires additional time between guests . I pretty much have to pick it off blankets and the couch, hair by hair , the laundry process dont seem to remove it well. ........ I do provide "doggie blankets" iF your pets are inclined to be ' bed dogs " that if you use them to cover the couch and extra beds not occupied by people , it would help me a lot.
OVERALL , your pets as family members are welcome here . Dallas
Now that you have checked available dates, here is my email address
DallasCabin@gmail.com
in your email please write the word "
CABIN
" in the subject line ( your email to me wont get stuck in a spam filter) You could supply your phone number , sometimes people's mail boxes are FULL and then I have no way to return a email to you.
This is a great photo of MOXIE FALLS taken
by my Friend ED...Ed, Jan and I enjoyed a picnic lunch here. It's one of the highest waterfalls in Maine.
Its about a one hour drive from here, through
moose country. Its located at the end of Moxie
Pond... It is about 100 feet at it's main drop,
there is a network of trails and viewing platforms.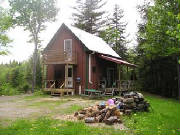 REPAINTED FROM BLUE TO BROWN
This photo shows the upstairs balcony leading out from a bedroom , it is about 6 by 10 feet , a great place for that morning coffee while sitting in the sun overlooking the stream. On the right side of the cabin at near ground level is a 8 x 16 railed deck , which now has a roof over it. It leads from the kitchen area through a sliding glass door , in the foreground is also the picnic table as well as the fireplace and woodpile.
FRONT OF CABIN LOOKING DOWNSTREAM / FIREPLACE