Febuary 13th 2013 This residential mobile home is currently rented out as a full time monthly rental, Ill leave this page in place for the time being , because of other info with in it. I'll update this page should it become available.
Great base for 4-wheeling, snowmobilers, hunting deer or just exploring Maine's inland areas and getting away from the tourists centers. (great base for deer camp for November)
This well maintained home may be ideal for families that can or are willing to sarifice waterfront property to save several hundred dollars on lodging. Its a great low cost alternative to a motel or hotel. It is a single furnished mobile home , not a trailor park! With the deck and additional bedroom it has over 1100 feet of floor space, bigger than a lot of small homes. There are lawn areas on 3 sides of the trailor. outback there is a swing-set for children, picnic table, a outside brick fireplace for summer enjoyment, with lots of area for walking or playing. While it has no waterfront, the nearest beach area , public tennis court, playground and convience store are one mile away. We often see deer and turkeys and an occasional moose out back. This area of Maine is generally within an hours drive of countless hours of activities.
A guide book is furnished ( Delorme's Map & Gazetteer ) with an endless list of places and things to do, such as Unique natural areas, Scenic waterfalls, Beaches, National and State Parks, Recreation areas, Lighthouses, Hiking trails, Places of interest and much more.
Recreational opportunities are abundant in this area with its lakes and ponds , streams and forests, whether you're fishing, hiking ,white water rafting, visiting waterfalls, mountain climbing, snowmobiling, skiing, snowshoeing, or just sitting on the deck with a book on clean clear crisp summer nights while listening to the frogs chirping and their mating calls fill the evening and night time air. ( mid April to August at nearby frog pond about 80 yards away) . Many of the best spots in Maine for outdoor activities are closer than you might think, our coast and lighthouses are a bit further. (about 1 hr. 45 minutes) Hunters, fishermen or people with ATVs / 4 wheelers (with or without boats or trailors , are also welcome - lots of parking room
Large partially covered deck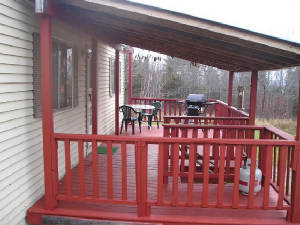 New BBQ gas grill furnished , table chairs
This full size furnished mobile home has 3 bedrooms, full bathroom (tub/shower combo), spacious living room, kitchen, and beautiful deck on the front of the trailer. ( this is not a trailor park) Included are washer/dryer, television with satellite, vcr/dvd, pull out couch, refrigerator, gas stove, table, chairs, with most kitchen necessities, such as coffee pot, toaster, microwave, dishes etc… Along with the necessary items for the bathroom; towels, toilet paper, etc… For beds, there's a full size bed in the addition, (that was added on within the last couple of years), 2 twin size beds in the second bedroom, and a bunk bed set up in the third bedroom. Sheets , pillows and blankets provided. The couch pulls out into a full size bed for additional sleeping needs. The trailer can sleep 6 people comfortably.
Although the trailer has a large shared driveway with my home, having your own privacy should not be a concern. The mobile home is located to the right side of my residence about 120 feet from the residential portion of my house, with a shed and workshop extended in that direction There is a lawn area on all 4 sides of the mobile home. Early fall, deer within 150 feet of the mobile home are fairly common . During the summer months , there are 3 fresh water beaches with in 5 miles for swimming for families with young ones, and a kids swingset area as well as a picnic table for adults to sit at while attending the kids, or they can be seen from the comfort of the shaded deck. Town owned playground and tennis courts are a mile away . 4 miles down the road , in Guilford there is a much larger play ground.
It is a single unit ,not a trailor park. There is a completely private small lawn in behind the trailer, to one side, a large yard with a picnic table, an outside fireplace and fire pit for summer enjoyment. (I supply free wood ) The firepit is a great place to cook our "Maine" RED HOT DOGS and roasting those favorite "smores" .. I have a portable firepit , if you would like one a bit closer to the deck area than the fireplace out back.
There is a pinetree plantation, just 100 yards away ,out beyond the apple trees - great place just to walk through on 3 inches of needles. There are several miles of trails and woodsroads just here on my property for you to enjoy, some lead towards the cabin (camp) down by the water. There is also a BBQ prophane grill on the large front deck. There is a lot of area for walking or playing. Of several nearby freshwater beaches the closest is about a mile away for swimming in the summer, its about 6 miles to the ones with floats for the older kids.

Partial views of Living room , one bedroom and Kitchen areas
Also this area is located within driving distance of some of the best spots in Maine for sightseeing, hiking, mountain climbing, snowmobiling, skiing, white water rafting and other outdoor activities. ( look at my "

Things to DO

" page to fill up your week if you need ideas )

If your here just to relax, read a book and do nothing , Thats great you deserve it. Perhaps our local bakery , craft shops and less than "world famous" nearby waterfalls, and geological formations and slate quarries might draw you out .

There is a man made frog pond about 100 yards from the mobile home from late April into August you will hear the chirping frogs and their mating calls fill the evening and night time air.

Bald Eagles are not uncommon in this area, occasionally you will even see them "guarding " the frog pond.
HUNTING or SNOWMOBILING in Maine ? Low rates
Free snowsled , ATV or Boat storage for weekenders
This trailor has about 1100 square feet of floor area counting the additional bedroom and front deck , its bigger than many small homes . Sleeps 6 comfortably.
Often you will see deer in the back yard up near the apple trees. We keep a couple of acres of lawn mowed . Through out my property there are a number of woods roads and trails where you may see deer , bunnies, turkeys and if you look up often you should see a bald eagle.
MOOSE HUNTING --
2011 Season Dates and Areas Open to Moose Hunting
SEE link below
Notice: Beginning in 2009, moose permit applications will only be accepted online. Paper applications will no longer be printed or mailed. The online application process will be available starting in early January of 2009.
DEER BEAR MOOSE HUNTERS
see this link for general infomation ( licences , seasons, limits laws )
This web site gives a description of both places that I rent out , the mobile home is less expensive because it has no waterfront. most of the infomation on this site applies to both locations , and they are 6 tenths of a mile apart,on this 100 acre lot.
Things to Do with in 1 - 22 miles of the mobile home
This list below will have some of the same things as my "Things to do page"
scenic Right here in Abbot is a small waterfall , its names is Gales Falls , from Abbot go towards Guilford about 1 1/2 miles , take a paved road to the right , go to telephone pole # 13 , you will see a place that a mobile home used to be,(on the left ) park there ( off the road ), walk strait ahead about 150 feet into the treeline , you will see a little waterfall nestled in the cedar trees .
Also in Abbot at Upper Abbot, there is a unique rock formation at the "old bridge site" along with the remains of a old griss mill and turbines.
scenic There is a wooden covered bridge between Guilford and Dover-Foxcroft.
Back in Abbot headed west on route 16, Check your odometer , go exactly 9.6 miles,( we will now be in Kingsbury ) there will be a small brook there ,(near a road numbered # 200) Maybe even a sign laying down that says "BOTTLE BROOK " someone dont like that sign marking that brook this waterfall is between 15 and 23 feet high in 2 steps , its just a pretty little waterfall that many locals have never seen . Once at the brook walk downstream about a 4 minute walk.
Further up route 16 in Bingham there is Houston brook Falls , scenic follow route 16 across the river ( downtown ) take a right after crossing the bridge , go about 2 1/2 miles on Pleasant Ridge Road , park at the town tranfer station , find the path just on the left side of that parking area. (about a 6 minute hike)
Moxie Falls scenic is about 93 foot vertical drop and is about 25 miles north of Bingham on route 201 at THE FORKS.
Wyman Dam scenic is located just above Bingham in Moscow , to find the dam watch for a street named STATION ROAD and you'll most likely see a Central Maine Power sign also , after wet weather this dam often has 3 rainbows if the sun is shining .
Bingham is the home base of several whitewater rafting outfits North Country Rivers 800.348.8871
General hiking areas , right here at the cabin follow the ATV trail "upstream" and you will come to some more whitewater up around that 2 nd bend , about a 15 minute walk one way
Borestone Mountain just above Monson is a favorite hiking area scenic BORESTONE MOUNTAIN in Elliotsville , about a 3 hour round trip , elevation gain of about 1100 feet , just for sunny days
Mt Kieno scenic Don't miss this hike. You take a boat (shuttle) over from Rockwood. Then, hike the Indian Trail, which has the best views. At the top, there is a fire tower. You may elect to climb the fire tower. At the top of the tower, there is a 360 degree view of both ends of the lake, Mt Kathadin, Canada, and the surrounding mountains
In the Greenvile area there are several places to rent a boat with motor to use on Moosehead lake for a day / or hours or from the downtown area there are 2 tour boats one being The Kate , a refurbished Steam boat ( now deisel ) used for decades for towing log booms,
this page is still in progress notes to me
add stuff on covered bridges light houses , mention my things to do page is availble for idea on activities , sq footage about 1018 feet , 2 public beaches within 6 miles , closest one one mile, casino 50 miles away, fall foilage in maine