UPDATE march 1 2010 . I keep this page up to date to include what I still have and whats been sold . Only several items remain There are various pieces of equipment below with prices ...... soft serve ice cream machine , , stainless steel hood with fan - with Ansul fire prevention system, , Mcflurry blender ,
On the heavier items ,the shipping costs are too much , if your interested I suggest that you get a pick up and drive to Maine to get them , I'm 4 hours north of Boston.
Dont ask me to return a phone call to you on these items, when i know that with the shipping costs and my reasonable prices combined , it would be cost prohibitive from buying the item your looking at .
i probably have spent a $100 on these calls in the past, with no sales. EMAIL me instead ... I'll answer every email with in several hours .. use the words Equipment & CABIN in the subject line, it will come to me as specially marked mail
For the items that I still have , each has a price with it I have had a number of chances to "give" these items away .
41 Monument Rd.
Abbot Me. 04406
207 876 2639 Please do not call after 8 PM EST
prices do not include shipping (done at cost , to include lumber , foam and whatever needed for a good packing job- no surprising handing costs )
This is a Santi- Serve machine below , air cooled typically chocolate or strawberry from one spindle , Vanillia from the other and the middle handle provides the mixed twist . The handles are not shown in this photo , this was taken after the machine was stored for the closed season. I have the stainless steel panels for the sides of the machine although they are not shown in this photo they ''dress up'' the machine . This machine is 2 independant units on one base , each side has its own 220 electrical feed and controls.

I was asking $ 6000.00 , but effective today 6/30/05 it is now just $3200 (only because its taking up space to store it ).... I have a second unit (water cooled) simular to this one .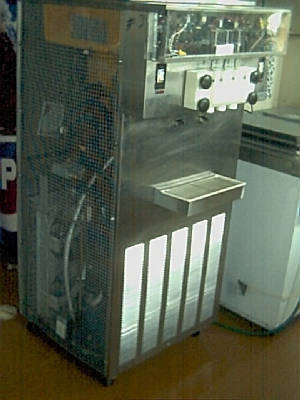 SANI-SERV

Model A5221J Serial # 111898

Volts 208 / 230

PH 1

cyc 60

Manf.Date 16589 ( must be a code )

There are two independant units on this base , each has

its own electial cord and the info below applies to each unit.

COMPRESSOR RA 13.4 LRA 59

AGITATOR HP 1.25 FLA 8.9

FAN HP 1/20 th FLA 2x.84

Refrigant Charge R502 Lbs. 2.25

Suction Release 19-23

Max. Fuse Size 40 Minimun Cuircuit Breaker 30 amp

test pressure high side 300 PSIG . Low side 150 PSIG

NSF and UL rated and listed
While this machine ABOVE was my main # 1 machine, I had a water cooled machine as a parts machine....... it will be sold seperately