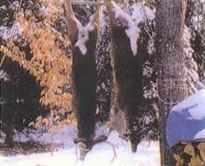 Each November, Maine hunters tag more than 600 whitetail bucks that tip the scales above the trophy 200-pound mark. Bear hunting in Maine is the best in the East. The state offers a fall moose hunting season unmatched in hunter success anywhere in the nation, as well as world-class hunting for wild turkey, ruffed grouse, pheasant, upland game and waterfowl.


Maine is home to one of the largest of the 30 recognized subspecies of white-tailed deer. After attaining maturity at age five, our bucks can reach record live weights of nearly 400 lbs. Most adult bucks, however will normally range from 200 to 300 lbs live weight, and will stand 36 to 40" at the shoulder. Does are considerably smaller; they normally weigh 120 to 175 lbs live weight. Newborn fawns begin life at 4 to 10 lbs, but grow to approximately 85 lbs live weight in their first 6 months of life. Deer have long graceful legs, enabling them to cover ground up to 40 mph. White-tailed deer can live to 18 years, but few deer in the wild live that long.
Special Offer ... Call and tell Dave you saw this on the net , and ask if he is running his early booking discount , this will be based on Availibilty. I'm running this page for my friend Dave ,a direct call to him at 207 343 0391 is your best bet .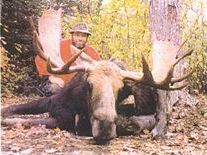 if your going hunt in Maine Increase your chances of a trophy buck or bear or moose, use a PROFESSIONAL. Maine Registered Guide ( 207 343-0391 )

Moose facts..During Maine's fall hunting season, the average adult cow weighs 600 lbs (dressed) and the average adult bull weighs 800 lbs (dressed). Large bulls weigh over 1000 lbs, dressed. The total length of a moose is about 9 feet and height measured at the shoulder is about 6 feet. The front hoof width is about 5 inches for a prime bull, just under 4 inches for a cow, and just under 3 inches for a calf. A bull's antlers spread rarely exceeds 65 inches and a spread of 55 inches is considered good. Antlers on cows are extremely rare...The average life expectancy is 8 years for a cow and 7 years for a bull. Moose may live into their late teens, but rarely live past 20.
Calves may have small buds by late September, yearlings may have spikes or small forks, and palms typically first develop in 2 and 3 year old bulls. Maximum antler development is obtained at age 5 and declines when bulls are in their teens.
The Latin name for moose, Alces alces, means elk and in Europe and Asia moose are called elk. However, in North America, Alces species are called moose. Four subspecies of moose are recognized in North America. The eastern or Taiga moose is the subspecies found in Maine.