This page describes and has photos of 3 other rentals for my friend Paul , I am trying to help him rent them out , get in touch with me. His rate is about 350 per week. He has no email If you want to reach me by email - You can do that by CLICKING ON MY name AT THE END OF THIS PARAGRAPH, it is a link to my email.
In your email, please refer to a specific one ( Cabin# 1 or Cabin #2 or Riverside Cabin ) . I can answer most emails within several hours. I do get paid by him for this referral service and my priority is to rent my place first !!! USE email to me , not the phone please
Dallas
( << e-mail link )
NOTE TO DEER and big game HUNTERS
I am renting out my friends places for him in Blanchard, Maine.
Paul's 3 CABINS
but i dont have his availablility list weeks in November, as well as summer weerks ( My calendar only reflects the availability of "my" place)
Currently he has vacancies in both cabin # 1 , 2 + 3 for November , both of these places are best suited for 4 people or less, both are NON SMOKING INSIDE ( positively !!!)
BLANCHARD is where the local hunters go for the BIG ONES , 200 pounders !
his rates will be about $350 - 400 per week depending on number or persons , a deposit will be required. I get paid for my part here . if your interested , Ill do the booking for you and will provide his phone # if you have specific questions that I cant answer ,
All 3 of his places are furnished. # 1 and 2 cabins have water and electricty.
This CABIN is the RIVERSIDE CABIN ( #3 for reference)
CABIN HAS WATER, but NO ELECTRICTY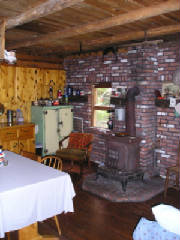 REALLY NICE WATER FRONTAGE
This is a rustic little cabin with quite a lot of room inside , It has one main Bedroom and a fold out couch , it will comfortably sleep 3 to 4. The bedroom doors are on rollers much like the old carriage houses

This cabin sits on the bank of the Piscataquis River, it is on a large lot , feel as if your alone in this great location . There are rock walls and game trails along the rivers edge.

But be warned you are back to some of the basics, this cabin has no electricity . It has a 1940's icebox, you actually buy a block of ice for your refrigation needs , It has gas lights and a wood stove ( wood furnished ) for heat and cooking

and also

an apartment size gas cooking range. It does has a spring feed running water ( seasonal ) for the inside sink. (subject to

freezing

on the outside supply line).

It does have a wood cook stove as well as a gas stove.

Other important considerations are that it has a real out house for your toilet needs and for that bath ,it has a seperate sauna building , wood fired of course !! build a fire out there , get the rocks hot and add a bit of cold water and you have instant steam bath.
CABIN # 1 below.. located in Blanchard Maine (population , not many )
Cabin # 1 is fully furnished , except a TV ? - , It does have electricy, inside plumbing, shower /tub, gas cook stove, washer dryer, oil heat, working antique wood stove, dishes , towels and linen and its a beautiful little cabin with a catherdal ceiling. 2 bedrooms and a porch. This is a clean and "polished" little cabin. Sleeps 3 to 4.
This cabin is maintained on the outsdie as well as the inside, I point this out because of the distortion quality of the photo when reducing it down to a small size for this site , it is neatly cedar shingled ! Within the building, there is a bedroom on both ends as you look at the photo.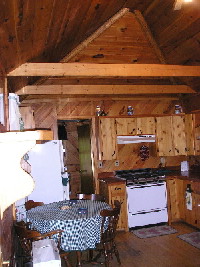 these two photos show how clean this place is ! most of it has real pine paneling, Polyurethane finish.
These 2 units #1 & # 2 are sit up on a hillside overlooking the Piscataquis River, they are about 250 feet apart with a tree barrier. You may see deer right in the yard near the apple trees .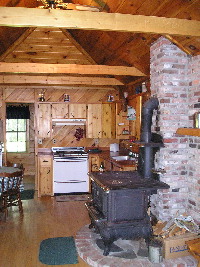 this shows one of the two bedrooms that are located on each end of the building. both are about the same size , each with a bureau and closet. THIS CABIN AS WELL AS #1 HAS A WASHER & DRYER.
CABIN # 2 is below
I had a problem with reducing this picture size digitally , distortion went all to hell , the building looks a lot better than this photo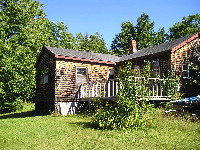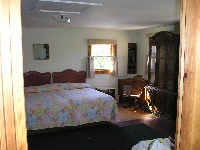 This bedroom has two twin beds together , in the living room area the couch pulls out for a bed



Cabin # 2 is also furnished and somewhat larger with a TV ? (ask), inside plumbing, shower, electric range, oil heat as well as a wood end heater, also washer dryer,dishes and linen. this unit has a deck.
Both places have a nice lawn area, they are about 200 feet from each other with a wooded section in between. And is located in Blanchard Maine ( population - hardly any ! ) a very nice quiet area.